Car Repair Website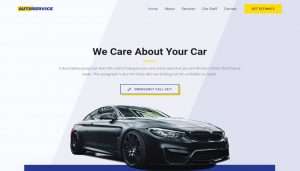 Contact us for Car Repair Website Design with Testimonial Google Reviews , Contact us Section and Appointment booking Option With Call
Product Brand: 24Siteshop
Product Price: 4900
Product In-Stock: InStock
Car Repair Website: Your Gateway to Automotive Success
Focus Keyword: Car Repair Website
Are you in the automotive repair business and looking to take your car repair shop to the next level? Presenting the ultimate solution – the Car Repair Website service from 24SiteShop! With our comprehensive web design package tailored specifically for car repair businesses, you can establish a strong online presence, attract more customers, and boost your revenue.
Advantages of Car Repair Website:
Showcase Your Services and Expertise: Your Car Repair Website will serve as a virtual showroom for your automotive services. Display your range of expertise, from routine maintenance and oil changes to complex engine repairs and diagnostics. Engaging content and high-quality images will leave a lasting impression on potential customers, helping them understand the value you bring to their vehicles.
Dynamic 6-Page Website: We provide you with a dynamic, user-friendly, and visually appealing 6-page website. Each page can be tailored to showcase specific aspects of your car repair business, creating a well-organized and informative digital platform for your customers.
Payment Gateway Integration: Simplify the payment process for your customers by integrating a secure and reliable payment gateway. This feature allows them to pay for services online, promoting convenience and customer satisfaction.
Domain and Hosting Included: Don't worry about the technical aspects – we take care of domain registration and hosting, ensuring that your Car Repair Website is up and running smoothly.
Unlimited Business Email IDs: Create professional email addresses for your team using your domain name. With unlimited business email IDs, you can enhance your brand identity and build trust with your customers.
Unlimited Images and Videos: Showcase your workshop, skilled technicians, and before-and-after car repair photos without worrying about storage limitations. Our service allows you to upload unlimited images and videos to captivate your audience.
Free SSL Certificate: Your customers' security is our priority. A free SSL certificate encrypts sensitive information, such as payment details and personal data, fostering trust and confidence in your website.
100% Responsive Design: Your Car Repair Website will adapt seamlessly to different screen sizes and devices, ensuring a consistent and enjoyable user experience on smartphones, tablets, and desktop computers.
WhatsApp Chat Integration: Stay connected with your customers by integrating a WhatsApp chat feature. Instant communication enhances customer support and assists in addressing queries promptly.
Call Button Integration: Make it effortless for potential customers to reach you by adding a call button to your website. With one simple tap, they can connect with your car repair shop.
Inquiry and Appointment Booking Forms: Our service includes custom-built inquiry and appointment booking forms. These features allow customers to request quotes, schedule repairs, and inquire about services directly through your website.
24/7 Support (Phone/Email/Chat): We prioritize your satisfaction, and that's why our support team is available round-the-clock to assist you via phone, email, or chat.
Social Media Integration: Leverage the power of social media to expand your reach. Connect your Car Repair Website to your social media profiles, enabling seamless sharing and interaction with your audience.
SEO Friendly Website: Our expert designers ensure that your website is optimized for search engines, making it easier for potential customers to find your car repair services online.
Admin Access: Take control of your website with an easy-to-use admin panel. Update content, manage appointments, and monitor website performance with simplicity.
Disadvantages:
Initial Investment: Establishing a Car Repair Website involves an initial investment. While it's a valuable long-term asset for your business, some car repair shop owners may find the cost challenging.
Time and Effort: Creating and maintaining a dynamic website may require some time and effort. Car repair shop owners already occupied with daily operations may find it challenging to allocate time for website management.
Technical Expertise: While we provide comprehensive support, some car repair shop owners may feel daunted by the technical aspects of website management. However, with our guidance, you can easily navigate the digital landscape.
Frequently Asked Questions (FAQs):
Q: Can I add more pages to my Car Repair Website in the future? A: Absolutely! Your Car Repair Website can be expanded with additional pages as your business grows, accommodating new services and information.
Q: Is the website design customizable to match my car repair shop's branding? A: Yes, we tailor the website's design to match your car repair shop's branding and logo, ensuring a consistent and professional appearance.
Q: Can I receive notifications for customer inquiries and appointment bookings? A: Yes, we can set up email notifications, ensuring you stay informed about customer inquiries and appointment requests in real-time.
Q: Is the payment gateway secure for online transactions? A: Yes, we integrate trusted and secure payment gateways to protect customer data during online transactions.
Q: Can I update website content on my own after the website is launched? A: Absolutely! With the easy-to-use admin panel, you can manage website content, add new services, and update information at your convenience.
Tags:
Car Repair Website Design
Automotive Service Website
Car Workshop Website
Car Mechanic Web Development
Dynamic Car Repair Website
Professional Car Repair Site
Car Repair Website Package
Online Appointment Booking
Car Repair Shop Web Design
SEO-Optimized Car Website
Rev up your car repair business with a cutting-edge Car Repair Website from 24SiteShop! Drive success, enhance customer engagement, and elevate your brand in the automotive industry. Visit our website today to get started on your journey to digital excellence!