Electrician Portfolio Website Design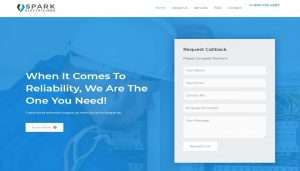 Contact us for Electrician Portfolio Website Design with Beautiful Reviews and Testimonial Section , Call to Action Section Whatsapp Button Add
Product Brand: 24Siteshop
Product Currency: Indian
Product Price: 2100
Product In-Stock: InStock
Are you an electrician looking to expand your clientele and showcase your skills and expertise to potential customers? Look no further! Introducing our exclusive service – the Electrician Portfolio Personal Website. At 24SiteShop, we understand the importance of a strong online presence for professionals like you, and that's why we've designed this comprehensive service to cater specifically to electricians who want to stand out in the digital landscape.
Product Features and Advantages:
Professional Design: Our Electrician Portfolio Personal Websites are crafted with a sleek and professional design that reflects your expertise and attention to detail. The website will be customized to match your brand identity, ensuring a cohesive and memorable user experience.
Showcase Your Projects: Display your completed electrical projects with high-quality images, detailed descriptions, and even video demonstrations. This interactive portfolio will help potential clients understand the scope and quality of your work, building trust and credibility.
Services Offered: Highlight the various services you offer as an electrician. From residential wiring and lighting installations to commercial electrical maintenance, you can present your full range of expertise in an organized and easy-to-navigate manner.
Contact and Booking: Make it effortless for visitors to reach out to you. With clear contact information and a user-friendly booking system, potential clients can easily get in touch to discuss projects or schedule appointments.
Customer Testimonials: Build trust by showcasing testimonials and reviews from satisfied clients. Positive feedback from previous customers can greatly influence potential clients in choosing your services over competitors.
SEO Optimization: We ensure that your Electrician Portfolio Personal Website is search engine optimized, making it easier for potential clients to find you when they search for electricians in your area.
Mobile Responsive: In today's mobile-centric world, your website will be fully responsive, adjusting to various devices and screen sizes, providing a seamless experience for users on smartphones, tablets, and desktops.
Social Media Integration: Leverage the power of social media by integrating your website with your professional profiles. This will help you reach a wider audience and increase engagement with potential clients.
Blog Section: Establish yourself as an industry expert by sharing useful tips, electrical safety guidelines, and informative content through a dedicated blog section. This not only enhances your website's value but also attracts organic traffic.
Personal Domain Name: Your Electrician Portfolio Personal Website will be hosted on a unique domain name, giving your brand a professional touch and making it easier for clients to remember and find you online.
Disadvantages:
Initial Investment: Creating and maintaining a professional Electrician Portfolio Personal Website requires an initial investment. While it is an essential tool for expanding your business, some electricians might find the cost prohibitive.
Time and Effort: Building a comprehensive website and keeping it up-to-date with the latest projects and information will demand some time and effort. This might be challenging for electricians who are already occupied with their day-to-day work.
Technical Know-how: While our team will handle the technical aspects of the website, some electricians might still find the digital landscape overwhelming. However, we provide assistance and guidance throughout the process.
Frequently Asked Questions (FAQs):
Q: Can I update my portfolio and other information on the website by myself? A: Yes, we provide a user-friendly content management system that allows you to easily update your portfolio, services, testimonials, and blog posts.
Q: How long does it take to create the Electrician Portfolio Personal Website? A: The timeline for website development depends on the complexity and customization required. Typically, it takes between 2 to 4 weeks to complete the website.
Q: Can I add a booking system to the website for clients to schedule appointments? A: Absolutely! We can integrate a booking system that allows clients to schedule appointments directly through your website.
Q: Will my website be optimized for search engines like Google? A: Yes, we ensure that your website is search engine optimized, which helps in improving its visibility on platforms like Google.
Q: Do I need to purchase a domain name separately? A: No, we will assist you in selecting and purchasing a domain name for your website. It will be included in the package.
Q: Can I showcase customer reviews and testimonials on my website? A: Yes, we highly encourage displaying customer reviews and testimonials as they build trust and credibility for your services.
Tags:
Electrician Portfolio Website
Personal Electrician Website
Electrician Portfolio Showcase
Electrician Website Design
Professional Electrician Website
Online Portfolio for Electricians
Electrician Website Development
Custom Electrician Website
Don't miss out on the opportunity to elevate your electrical business with an impressive Electrician Portfolio Personal Website. Stand out from the competition, attract more clients, and establish your online presence today! Visit 24SiteShop.com and take your electrician career to new heights.
Are you tired of relying solely on traditional advertising methods and word-of-mouth to promote your electrician services? In today's digital age, having a compelling online presence is paramount for any professional, especially for electricians. That's where our Electrician Portfolio Personal Website service comes in to revolutionize your business and open up new avenues for growth.
Showcase Your Expertise:
With our Electrician Portfolio Personal Website, you can showcase your expertise and craftsmanship like never before. Your website will become a virtual showroom for your electrical projects, allowing potential clients to explore your work in detail. High-resolution images and engaging descriptions will captivate visitors, giving them a glimpse of the high-quality services you offer. Whether it's residential electrical installations, commercial electrical repairs, or industrial electrical solutions, you can demonstrate your capabilities to a broader audience.
Build Trust with Testimonials:
One of the most significant advantages of having an Electrician Portfolio Personal Website is the ability to build trust with your audience. Displaying genuine testimonials and reviews from satisfied clients speaks volumes about the quality of your work and your commitment to customer satisfaction. As visitors read about the positive experiences of past clients, they'll be more inclined to choose your services over competitors.
Reach a Wider Audience:
Gone are the days when potential clients relied solely on phone directories and word-of-mouth recommendations to find an electrician. With your own professional website, you can reach a much wider audience. When people in your area search for "electricians," your website will appear in search results, allowing you to tap into a whole new customer base. This increased visibility can lead to a steady stream of inquiries and projects, taking your business to new heights.
Inform and Educate through Blogs:
Our Electrician Portfolio Personal Websites come with a built-in blog section. This feature allows you to educate your audience about electrical safety, energy-saving tips, and the latest advancements in the industry. By providing valuable content, you position yourself as an expert in your field, further enhancing your credibility. Additionally, search engines love fresh and relevant content, which can improve your website's ranking and attract more organic traffic.
Seamless User Experience:
We understand that your potential clients have busy lives, and they need a seamless experience when browsing your website. Our expert designers ensure that your Electrician Portfolio Personal Website is intuitive and easy to navigate. From a clear call-to-action for inquiries and appointments to a simple menu structure, we ensure that visitors can find the information they need effortlessly. The website will be optimized for all devices, ensuring a consistent experience whether accessed on a desktop computer, smartphone, or tablet.
Stay Ahead of the Competition:
While many electricians may already have a basic website, having a professionally designed Electrician Portfolio Personal Website sets you apart from the competition. Your website will exude professionalism, reliability, and a commitment to quality work. As clients compare different electricians, your well-crafted online presence will make a lasting impression, making them more likely to choose you.